Why A Responsive Website Matters
Published: 12.24.2018
Category: Blog
How are you reading this article right now? If you are like most internet users, you are reading this on a mobile device. According to an article from Pew Research Center, more than three-quarters of Americans now have a smartphone. An increasing number are using their mobile devices as their primary means for browsing the internet, too. Long gone are the days of sitting on a desktop computer at home.
And that's why responsive web design matters a lot. Responsive design caters to mobile users and adapts your website to their screen, no matter how small or large that screen might be. That way users can view your website on their desktop computer at work or their smartphone while on the couch and still get a great experience either way. Responsive design works for all screens, too. That means users can be viewing your site from their tablet, phablets, laptops, or whatever hot device pops into the market next.
If your website isn't adapting to the needs of the mobile device user, you are missing out on a massive audience.
Bad Design Will Drive Away Potential Customers
Chances are good that your business isn't the only one like it out there.
You spent money on a website that advertises your business and captures the attention of potential customers. So did your competitor. If a potential customer comes to your website on their mobile phone and finds it clunky, hard to read, or difficult to navigate, they aren't going to stick around. You've driven away a potential customer to your competitor. If your competitor's site is easier to navigate on their smart device, the customer is much more likely to contact the business and buy from them.
Google Loves Responsive Design
Usability isn't the only reason to embrace responsive design. Google loves it, too. The all-important Google algorithm favors websites with responsive design. Google knows that users are looking at websites on a variety of devices. By providing them with results that look good on their phones, the user has a more favorable impression of Google, too.
Google knows that responsive design makes users happy and they are enforcing it through search engine results. Focusing on SEO efforts without worrying about responsive design is like throwing your marketing budget out the window.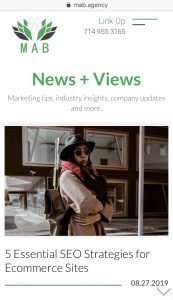 Responsive Web Design is Good For You, Too
Not only will responsive web design help you attract more customers on mobile devices, but it can also help your business save time and money. That's because responsive design happens from one website. There is no need to pay for, build, or maintain a separate mobile site. Users can navigate to the same URL no matter how they want to look at it.
That means all your analytics come from the same place, too. You'll be able to compile and use data from your site, understanding user patterns and how to cater to them. It can help you target your SEO efforts as well as make it easier to integrate more interactive content on your site.
How Responsive Is Your Site?
The takeaway is this: Your website has to be mobile-friendly. If it's not, it's time to partner with a responsive web design team who can help you make the change. MAB is ready to get to work! Our team puts the customer experience first. That's what drives us to create beautiful, user-friendly websites for our clients. Our goal is to help you acquire, convert, and retain more traffic on your site through responsive design.
Get in touch with us today and let's talk about how to create a site your users (and you!) will love.